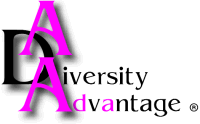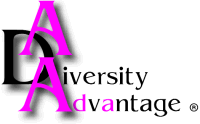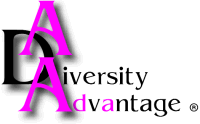 ---
About Us | Clients | Benefits | Resources | Contact Us | Home
About A Diversity Advantage
What sets A Diversity Advantage apart from other disability consultants?
Continuity of follow-up service to our clients


Cutting-edge knowledge on state-of-the-art assistive technology (AT) and services and how that AT achieves compliance with disability laws


Comprehensive experience in technical assistance and training to federal, state, private, and nonprofit entities
Training and technical assistance is available on the Americans with Disabilities Act (ADA), the Rehabilitation Act (Sections 501, 503, 504, and 508), and many other disability-related laws and topics, such as education, employment, health, housing, transportation, information technology, and telecommunications.
Training is conducted in an interactive, highly participatory technique that produces a higher retention rate and more effective applications of the training objectives.
With more than 30 years in the academic, federal, private, and nonprofit sectors and more than 20 years of that experience in the disability field, the president of A Diversity Advantage brings an unparalleled edge of service to her clients. View Testimonials.
The president and her staff have firsthand experience on disability-related legislation and services for the U.S. Departments of Justice, Education, and Health and Human Services as well as the private and nonprofit sectors.
Clients include General Motors; NASA; U.S. Secret Service; Delaware Department of Health and Human Services; Marriott, Ritz Carlton, Hyatt, and Sheraton hotels; Dover Downs, an entertainment, casino, and racetrack facility; the Maryland State Highway Administration; and TrizecHahn Mid-Atlantic Region, a property management firm.
The president, Carol Boyer, is a person with a disability. She was a March of Dimes poster child for the Washington, DC area in the mid-1950s. Staff and consultants of A Diversity Advantage are individuals with disabilities as well as minorities with disabilities.
Dana Jackson is a skilled platform presenter and instructor/trainer for corporate and government clients in the diversity field.

About Us | Clients | Benefits | Resources | Contact Us | Home
---
A Diversity Advantage
13900 Mount Oak Court, Mitchellville, MD 20721
Phone: 301/249-4916 Email: