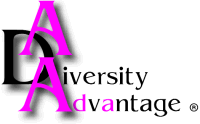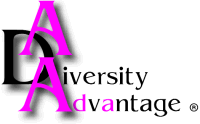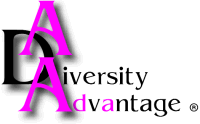 A Diversity Advantage
®
A Diversity Advantage is a unique diversity consulting and training organization.

We offer comprehensive, continuous, and expert consultation, technical assistance, and training on disability civil rights laws; employment, education, housing, health, and information technologies accessibility; conference planning; and disability sensitivity.

Federal and state agencies, the private sector, and nonprofit organizations are satisfied clients of A Diversity Advantage.

---

SHELTER TRANSFORMATION PROJECT
Carol Boyer, president of A Diversity Advantage, launched a Shelter Transformation Project (STP) in 2005. The STP is a call to action for state and local governments, private and nonprofit organizations, and individuals to enlighten their domestic violence shelters to serve all their clients--no matter what their ability.

About Us | Clients | Benefits | Resources | Contact Us
---
A Diversity Advantage
13900 Mount Oak Court, Mitchellville, MD 20721
Phone: 301/249-4916 Email: